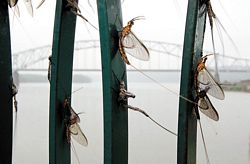 Last June when I arrived in Dubuque, I took a walk along the riverfront. It was there I had my first encounter with fish flies. They were clumped together around the lamps and the sides of the building. I asked my new friend what they were and she said flies that come for about a week and make a mess of the riverfront. It was at that point that I decided to learn a little about these interesting flies.
Today they are back again. What I have learned about them is fascinating. They live for only 24 hours. Their technical name is mayflies and they emerge out of the water during the hot summer months. Mayfly nymphs live in water for anywhere from three to four weeks to two-and-a-half years, depending on the species. While in the water, they live on plant material and attempt to avoid hungry fish, salamanders and even dragonflies. After they hatch, they fly around for about 6 hours. They have no mouths so they do not eat.
After flying around for 6 hours, the males form swarms to excite the females and breeding occurs.
Most females fly upstream before laying their eggs. The eggs, as many as 8,000 from each female, drop to the river bottom. This occurs within about 5 minutes after they have mated. They then fly around for another 6 hours usually close to light like a lamp post. They cling to the post and then die.
I wondered about the purpose of the Mayflies and thought maybe it is to feed the fish. If each female fly deposits 8,000 eggs, I would hope the fish eat most of them because if they all hatched we would have invasion of the Mayflies!
I am glad I do not have to clean up the mess of millions of dead fish flies. They are only found close to the river and never migrate this far into the interior. I have even heard of cars sliding around when there are so many of them on the road. People tell me it is like black ice without the cold. Only in the Midwest!
Visit our website: Quiet Walker Lodge Bed and Breakfast